Upravo sam pročitala kako je Izraelac po imenu Izhar Gafni, osmislio i načinio
bicikl od kartona
. Da, dobro ste pročitali! Pomoću origami tehnike povećao je izdržljivost materijala do 3 puta te uspio napraviti vodootporni okvir bicikla koji može podnijeti teret i do 220 kg! Iduće godine ćete ga moći isprobati i kupiti ako želite, cijena će mu se kretati oko 60 do 90 dolara.
I've just read that the Israeli Izhar Gafni has designed and made a bicycle out of cardboard. Yes, you've read it right! He increased the durability of the material up to 3 times by using origami techniques and managed to make a waterproof frame that can handle cargo up to 220 kilos. Next year you'll be able to try it and buy it if you want to, the price will be about $ 60 - 90.
To me motiviralo da potražim i neke druge izume koji su se pojavili u novije vrijeme i da se zajedno zabavimo. Iako će vam možda mnogi od njih izgledati smiješno, čudno ili čak glupo, nikad se ne zna. Mnogi izumi bez kojih danas teško možemo zamisliti život, kao što su mobiteli, laseri, handsfree uređaji, su često bili predmet ismijavanja i o njima su se vodile razne diskusije o tome što je moguće, a što nije. A kladim se da je mobitel i sad tu negdje blizu vas! :)
It motivated me to seek for some other inventions that have emerged recently and to have fun together. Although you may think some of them look funny, weird or even stupid, you never know.. Many inventions we can hardly imagine life without today, such as cell phones, lasers, hands-free devices, were often ridiculed and there were various discussions about what is possible and what isnt. I bet your phone is somewhere near you now! :)
Sušilo za nokte
- obratite pozornost da se cjevčice mogu lako prilagoditi obliku ruke, dok drugom pumpamo zrak. Zar nije cool?
Nail siccative - note that the tubes are easily adjustable to your hand shape, while you pump air with the other one. Cool, right?
Maska za ruž
- preciznost vam nije jača strana? Evo rješenja!
Mask for the lipstick - you're not so good in accuracy? Nevermind, here's the solution!
Mrzite kišu? Nabavite ovaj
super kišobran
koji štiti cijelo tijelo i uvijek ostanite suhi! Gratis dobijete još jedan najlon. Što je sigurno, sigurno je!
Do you hate rain? Buy this super umbrella that protects whole body and always stay dry! You get another nylon free! Just to be certain!
Imate običaj skidati cipele/patike na ovaj način jer vam se mrsko sagnuti, a mama vam još uvijek govori da to ne radite jer ćete ih uništiti? Imam rješenje i za to:
skidač cipela
! Dodaci priljepljeni na obične cipele koji vam pomaže u izuvanju tako da se ne morate saginjati.
If you take your shoes/sneakers off this way because you're too lazy to stoop, and your mom is still telling you not to do that because you'll ruin them, I have a solution:
shoes skimmer
! Extras pasted into ordinary shoes to help you with taking them off so you dont have to bend down.
Majica za češkanje
nakon napornog dana - što reći, osim genijalno? Ovo moram imati!
T - shirt for scratching after a tiring day - what can I say, except genious? I've got to have this!
I još par genijalnih (ili ipak ne?!) stvarčica
za vaš dom
:
And here are few more genious (or maybe not?!) things for your home: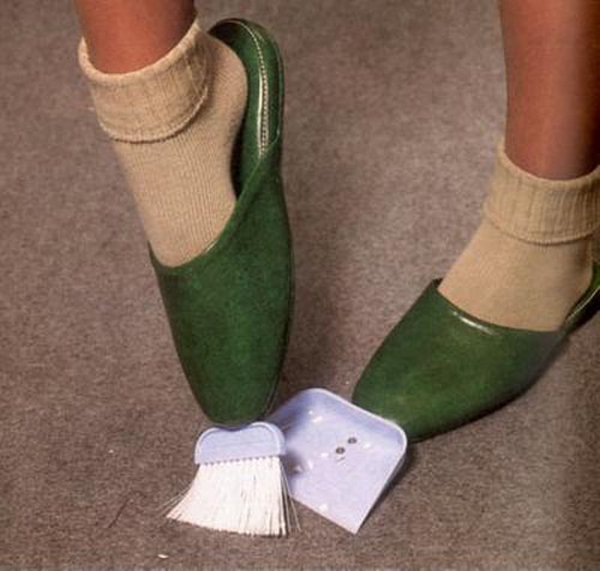 Ok, ako vas stvarno bole leđa i ne možete se sagnuti, a dolaze vam gosti samo obujte svoje
super papuče
i zaplešite! Cijeli pod će blistati kao nikad prije, dok kažete keks!
Ok, if you really hurt your back and you cant bend down and you'll have visitors, just put on your
super slippers
and dance! The entire floor will be shining like never before!
Sat koji bježi
- idealno rješenje za sve pospance poput mene. Iako, mislim da ne bi preživio ni prvi tjedan.
Clock that runs away
- perfect solution for all the sleepyheads like me. Although, I think it wouldnt survive first week.
Džepić za keksić
- mmmmmm..
Biscuit pocket - ommmmmmm..
Maslac u sticku
- samo pripazite da ga ne zamijenite sa ljepilom, to ne bi bilo lijepo..
Butter in a stick - just be careful not to replace it with a glue, that wouldnt be nice..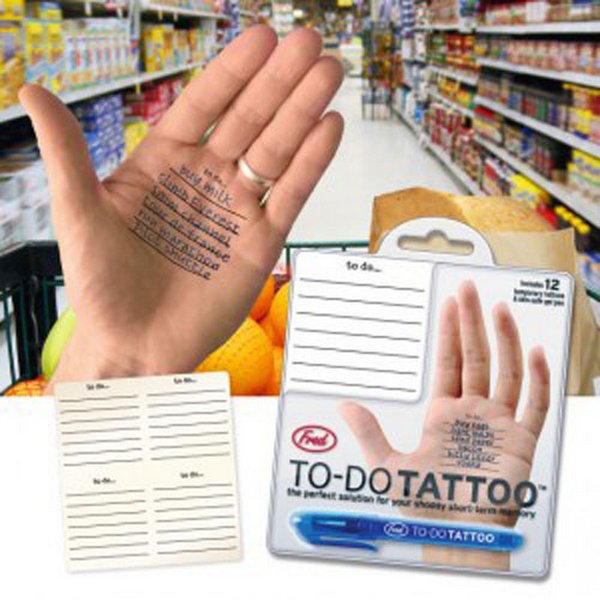 Slika govori više od stotinu riječi! A ja znam tko će ovo dobiti za rođendan haha :D
A picture speaks more than a hundred words! And I know who will get this for the birthday haha :D
I to bi zasad bilo to. Nadam se da ste se zabavili, a ako imate još kakvih želja što se tiče izuma, rado ću ih ispuniti!
Hoćete li nabaviti koji od ovih izuma?
Jeste li ikad poželjeli imati nešto što još uvijek ne postoji? Hajde, nemojte se stidjeti, nabacite ideje u komentarima pa da se zajedno bacimo u izumljavanje! Sigurna sam da bi nam bilo jako zabavno! :))
And that would be all, for now. Hope you had fun reading this, if you still have any wishes regarding inventions I'll be happy to help! Will you get one of these inventions?
Have you ever wanted something that doesnt exist yet? Come on, dont be shy and throw on the ideas in the comments below so that we can start working on something cool together! I'm sure it would be so much fun! :))
:*
M.